BMO participated in providing support
08:32:00 | Mar 10,2021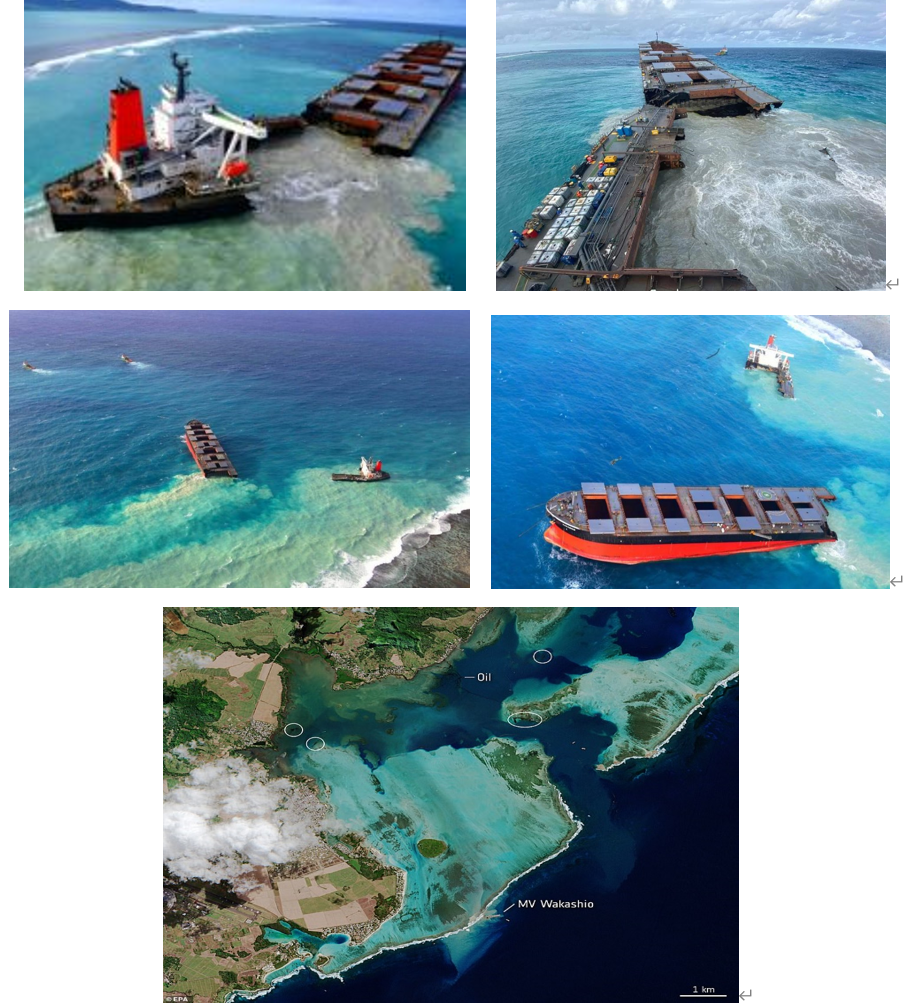 The MV Wakashio oil spill occurred offshore of Pointe d'Esny, south of Mauritius, after the Japanese bulk carrier Wakashio ran aground on a coral reef on 25 July 2020 at around 16:00 UTC.[1] The ship began to leak fuel oil in the following weeks, and broke apart in mid August. Although much of the oil on board Wakashio was pumped out before she broke in half, an estimated 1,000 tonnes of oil spilled into the ocean in what was called by some scientists the worst environmental disaster ever in Mauritius. Two weeks after the incident, the Mauritian government declared the incident a national emergency.
Mitsui O.S.K. Lines (MOL) has released new details about the July grounding of the bulk carrier Wakashio in Mauritius and has detailed measures it's taking to prevent the type of incident from happening again in the future.
MOL chartered the vessel from a subsidiary of Nagashiki Shipping Co.
The MV Wakashio was unladen when it strayed from shipping lanes and ran aground on a reef off Mauritius' coast on July 25. The vessel's condition deteriorated as it as on the reef and eventually resulted in a breach of a bunker fuel tank on August 6, resulting in some 1,000 tonnes of fuel to be leaked into the environment and creating an environmental disaster. The bow of the Wakashio was eventually towed out to sea and scuttled in late August, but operations to remove the ship's stern are still underway and expected to last into next Spring.
Investigations by the flag state are on-going, but MOL has released today details from its own internal investigation into the accident, clearly pointing to lack of awareness by the ship's crewmembers.
A Chinese specialist has been contracted to remove the wrecked stern of Newcastlemax bulk carrier Wakashio, starting next month.
Nagashiki Shipping has confirmed Lianyungang Dali Underwater Engineering is mobilising assets and equipment to Mauritius where Wakashio crashed into coral reefs in July 2020, causing considerable oil pollution and international condemnation.
Wakashio was on charter to Mitsui OSK Lines at the time of the incident.
Its stern is the final section remaining on the reef after the ship's bow was towed out to the open ocean and scuttled in August by two tugs operated by Smit.
Nagashiki Shipping said it "planned to proceed with consultation and confirmation with the Mauritius authorities regarding removing the hull remains."
Lianyungang Dali Underwater Engineering will begin wreck removal in December 2020, finishing a key phase in the clean-up operations.
Nagashiki Shipping said removal of oil pollution from the sea surface was completed with around 1,000 tonnes of oil spilled recovered, thanks to local residents and oil cleaning companies. Work continues with removing oil that had drifted over about 30 km along the coast, with this expected to be completed in January 2021.
It is co-operating with the Mauritian Natural Environment Recovery Fund on coastal oil recovery, salvage of the hull stern "and fulfilment of our responsibilities as a shipowner, such as procurement and transportation of goods," Nagashiki Shipping said.
IMO helped Mauritius to mitigate the impacts form Wakashio grounding and oil spill.
Investigations into the cause of the Wakashio accident and into actions by the captain and crew are being conducted by the Mauritius Government and the related authorities in Japan.
To remove the stern section, Lianyungang Dali Underwater Engineering will use a heavy-lift crane barge with support from other barges and tugs.
Blissful Marine & Offshore Services Pte Ltd and Saj Offshore Pte Ltd was proud to be involved supporting Lianyungang Dali Underwater Engineering.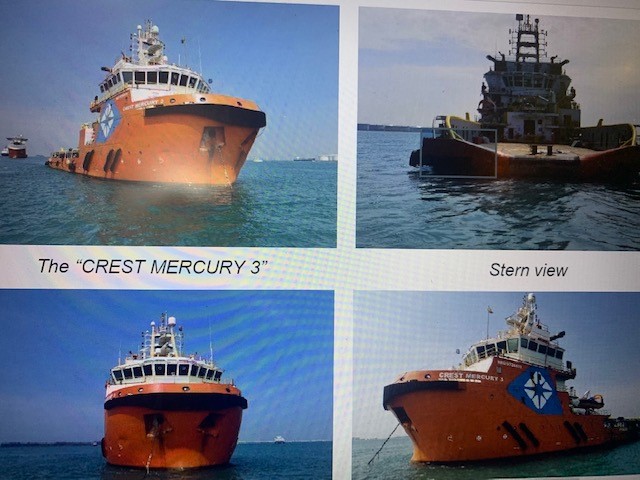 From early March 2021, we are pleased to have Pacific Offshore Marine Pte Ltd AHTS "Crest Mercury 3" chartered to Lianyungang Dali Underwater Engineering to support the wreck removal assignment.
Subject to weather permitting it should be completed by May 2021.
Blissful Marine & Offshore Services Pte Ltd and Saj Offshore Pte Ltd wish to thank all concern parties for their support and trust to make this a success.